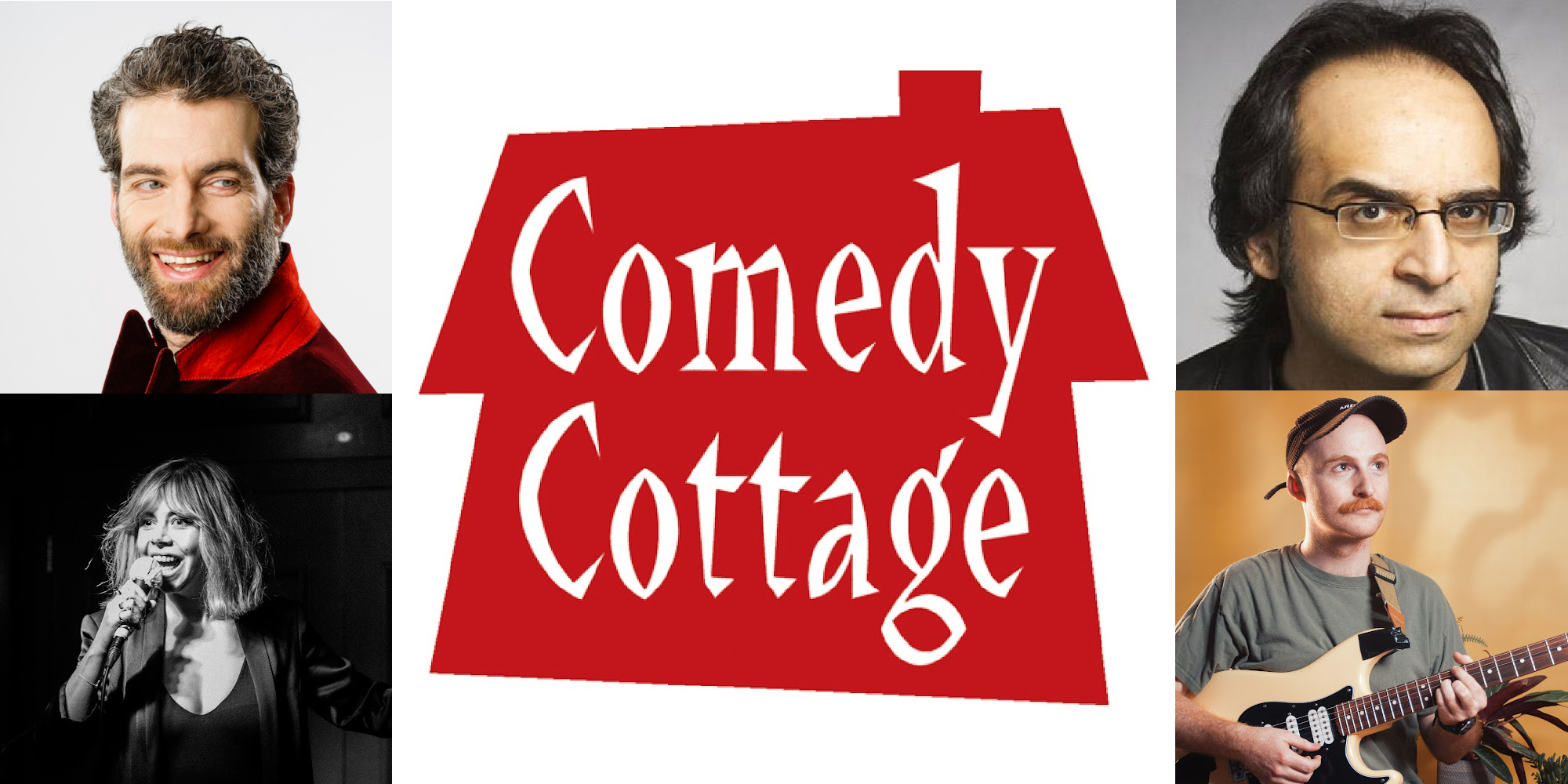 Comedy Cottage: June
Your award-winning local community comedy club
The last Comedy Cottage at the Harlequin Theatre before we break for the Summer and what a scorcher of a line-up we have for you!
This month's show is in aid of Macmillan Cancer Support with your founder and Mc for the evening…
Sajeela Kershi
As seen on your telly & heard on your wireless.
"incidental digressions, sharpness of wit and ad libbing in her Joanna Lumley cut-glass vowels will be more than worth it"   The Stage
"The woman is a treasure, she's like Claire Raynor scripted by Kenneth Williams"   The Spectator
** IN AN UPDATE TO PREVIOUS BILLING **
Headlining for us is multi-award winning standup…
Dan Antopolski
Dan has performed across the UK and internationally, with appearances at Montreal, Melbourne and New York. His many TV, film and radio appearances include Paddington 2 and Good Omens (BBC) and he is known to younger viewers as the host of The Dare Devil (CBBC).
"Innovative, truth-seeking, weirdly magical stuff… he stands in a comedy spotlight all of his own. Thank heaven – with special thanks also to hell – for Dan Antopolski."   The List
"The daftest, silliest and most uplifting show I've seen, a happy reminder of how the best comedy can leave you smiling for the rest of the evening."   Observer
BBC New Comedy Award Winner / Perrier Best Newcomer Award Nominee / Perrier Award Nominee / Dave Funniest Joke Of The Fringe Award Winner / Honorary Life Member Of The University Of Dublin Law Society.
With support from…
Inder Manocha
Comedian/Actor, Winner of EMMA Award for Best Asian Comedian
Seen in Madonna's film 'Filth and Wisdom' BBC's Pulling, Holby City & Much more.
"Elaborate and engaging….perceptively witty"   ThreeWeeks
"A thorough delight from start to finish"   Time Out
plus…
Georgie Morell 
As seen and heard on Back Chat (Dave), Quote Unquote (BBC Radio 4), Good Week/Bad Week (BBC Radio 5 Live) and Casualty (BBC1).
"Side-splittingly funny"   Disability Arts Online.
Nathan Ramsden-Lock 
Nathan Ramsden-Lock is a one man variety show with an offbeat mix of visual gags, puns, one liners and comical songs so catchy, you'll still be singing them on the way home!
"His self-aware commitment to this offbeat style is amusing in its own way and creates a unique kind of energy in the room."   West Sussex County Times
Matty Hutson
Musical Comedian
"Emotional but hilarious"   British Comedy Guide
House tunes from our resident maestro Pete Dennis.
The new season of Comedy Cottage at The Harlequin will begin 30 September 2022 and continue the last Friday of the month thereafter.
Friday 24 June 2022 at 8pm