Ooo la la! This year's Harlequin Theatre pantomime is the classic tale of Beauty and the Beast.
Join us at The Big Top Panto in Redhill Memorial Park between 8th – 31st December for some traditional festive family fun as we regale the classic fairy tale story of Beauty and the Beast.
Following the closure of The Harlequin Theatre in September due to the discover of RAAC… the show must go on! The Harlequin Panto is relocating to a big top in Redhill Memorial Park for an extra magical festive treat. Tickets go on general sale from Friday 20th October.
Beauty and the Beast champions one of today's most relevant pantomime stories; will Belle see beyond the Beast's imposing façade and discover love is more than skin deep?
This year we have an all-star cast of characters! Redhill's favourite Dame, Simon Bashford returns as Dame Cheri Trifle alongside Phil Reid, back by popular demand. CBeebies presenter Joanna Adeyinka-Burford and children's TV legend Dave Benson Phillips joins Neighbours' Colette Mann to round out our spectacular panto cast.
Set in the French village of Populaire Sur La Mare, a host of creative roles, colourful scenery and a fast-paced story bring this pantomime tale right up to date with plenty of shenanigans, more than a trifle of tomfoolery and an amuse-bouche of comedy capers.
Join the big-hearted Dame Cheri Trifle who is layered with loveliness, including her a la mode costumes! Gaston swaggers with attitude, but flounces with fear when he meets the witch Mauvaise. A crackpot, inventive professor brings chaos and calamities while the village's handyman, Philippe Philoppe, adds a new level of raucous, riotous, revelry to the Harlequin stage!
What better way to get into the Christmas spirit than a trip to the panto at The Harlequin Big Top Panto!
To book, please click 'View all performances' below.
Pantomime Run Time: 2 Hours 20 Minutes (Including interval)
Relaxed Performance: Sunday 17th December at 10.30am
This performance will be adjusted to those with sensory needs. Loud noises and music will lowered, no strobe lighting, lighting special effects will be toned down. Soft lighting state over audience, doors remain open throughout performance: audience free to come and go. This production may also be suitable for younger children attending their first pantomime.
BSL Interpreted Performance: Thursday 14th December at 5.30pm
For family tickets or youth group rates please call the box office on 01737 276 500 to book.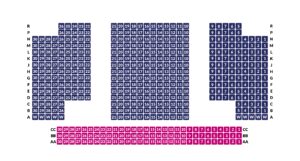 Pricing
BLUE PERFORMANCES
Youth Group
£13.00 + 1 goes free for every 10 tickets
GREEN PERFORMANCES
Family of 4 (max 2 adults)
£91.00
Youth Group
£13.00 + 1 goes free for every 10 tickets
ORANGE PERFORMANCES
Family of 4 (max 2 adults)
£97.00
Youth Group
£16.00 + 1 goes free for every 10 tickets
Harlequin Pantomime reviews